The Weka Pass Railway owns a number of ex-New Zealand Railways steam and diesel locomotives, and has hosted a number of others since its opening. Our locomotives are representative of those which operated on rural Canterbury Branch Lines in the heyday of the New Zealand Railways.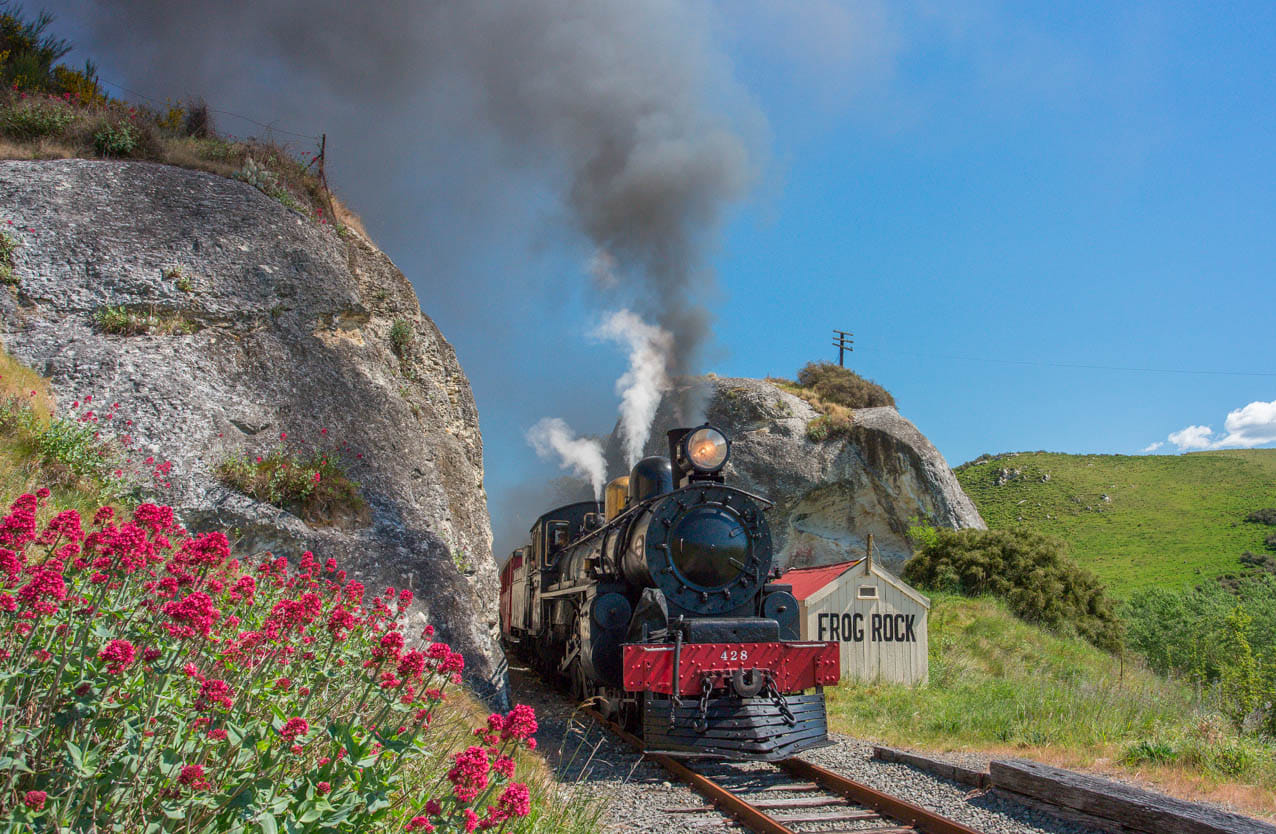 A 428 – A & G Price Limited, Thames, New Zealand
A 428 was built for the New Zealand Railways in Thames in 1909. In their heyday, the A class were the pride of the North Island Main Trunk working predominately on express trains around Auckland. A 428 was built as a compound locomotive, meaning that it had two additional cylinders and associated valve gear systems between the frames, but due to maintenance costs and troubles, she was rebuilt to a conventional (simple) two cylinder steam locomotive in early 1943. Superheating made up for the power lost as a result of the conversion.
In her later years, once more modern locomotives were introduced in the North Island, A 428 was sent to the South Island's West Coast, where she worked alongside many other elderly engines on the Ross Branch, up to Reefton, and occasionally up the hilly mainline to Otira. 428 proved useful, however in early June 1969, her fire was dropped symbolising the demise of one of the last great Pacifics. She was sent inside the Elmer Lane roundhouse in Greymouth alongside other withdrawn locomotives to cool off before setting off over the hills for one last time – to the Pacific Steel scrap yard in Christchurch. J 1209 left on the 12th November 1969. Ab 706, 10 days later. J 1208 in early December. In the following months, a few survivors were steamed to preservation societies throughout the country. By Christmas 1970, there was only one – A 428
A 428 was 'saved form the torch' by the West Coast Preservation Society (later the A 428 Preservation Society). In 1983, after a lengthy and uncertain period of storage, A 428 finally arrived at her new home, the Weka Pass Railway. She returned to service in September 1993 after an extensive overhaul, and has since served us well for 25 glorious years!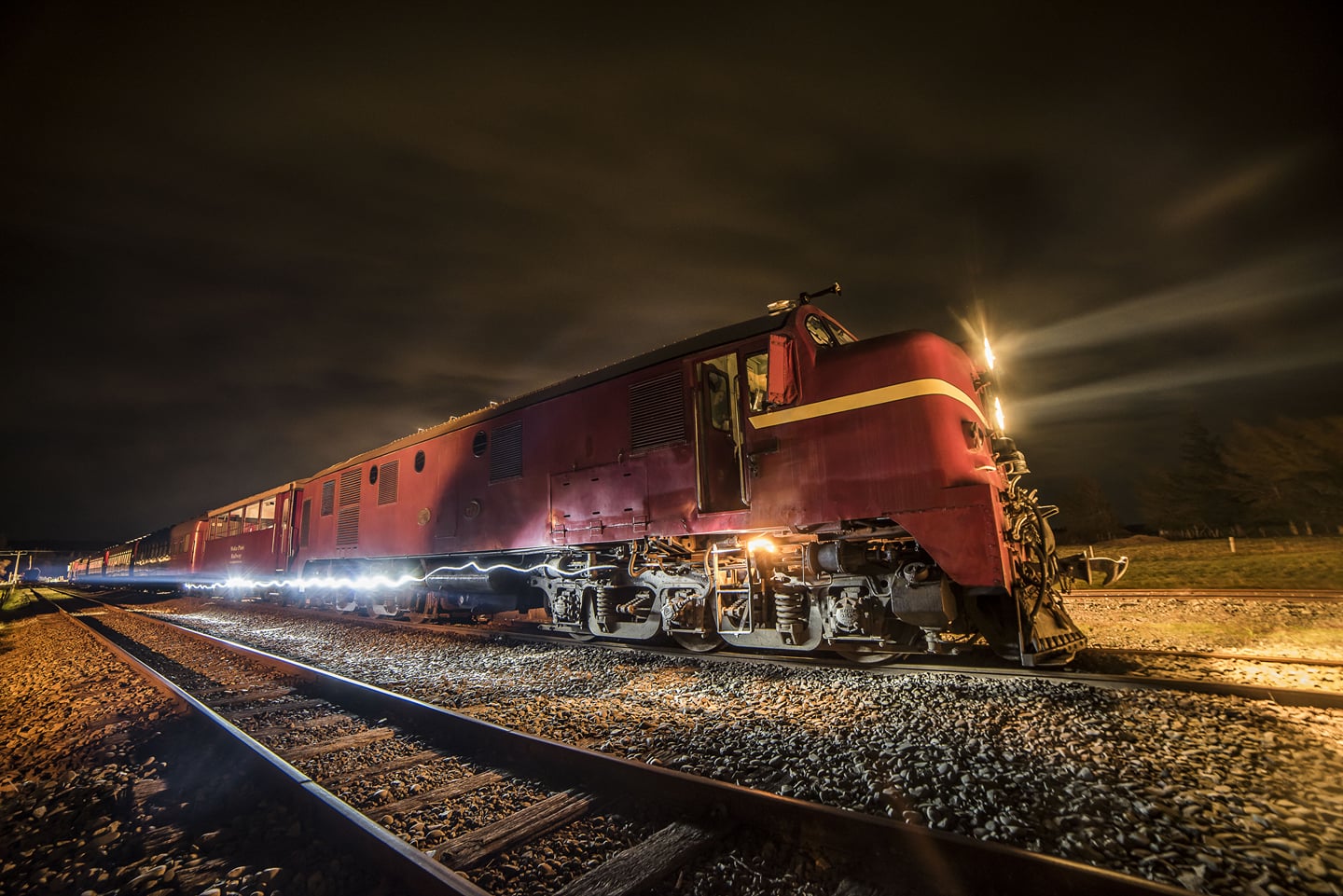 Dg 770 – The Vulcan Foundry, Newton-le-Willows, England
Dg 770, an ex-New Zealand Railways Dg class locomotive, was built by the Vulcan, and English Electric Company Plant in 1956. These bulky locos, weighing over 65 tons for only 750 hp, are in the true British 'built like a brick out-house' fashion. But this means they were built to last, most of the body panels are galvanized!
Dg 770 worked predominantly on South Island mainlines throughout it's working life and was a common sight on The Cabbage Train, the overnight Christchurch – Picton express mixed train which carried fresh South Island produce to the ferry for early-morning Wellington trade. These engines were notoriously cramped and got very hot while climbing the gradients north of Waipara.
It was renumbered as DG 2232 around 1978 due to the introduction of TMS. 770 was involved in a major tunnel incident in the Dashwood Pass on the 19th of May 1966 which resulted with a heavily damaged body and a bent frame. Fortunately, 770 was rebuilt and continued to operate until 1983 when it was purchased by the newly established Weka Pass Railway. Purchased ready-to-run, Dg 770 was quickly put to work once the Weka Pass Railway began operating trains in 1984.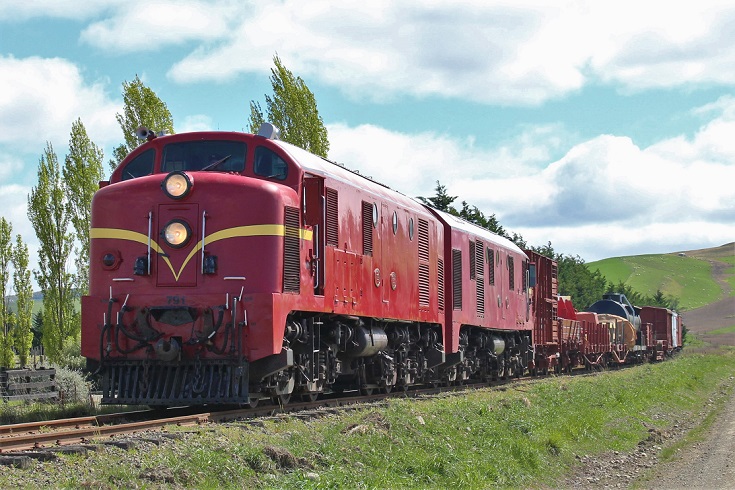 Dg 791 – The Vulcan Foundry Limited, Newton-le-Willows, England
Like Dg 770, Dg 791 is also an ex-New Zealand Railways Dg class locomotive that was built in England in 1956. Dg 791 also worked predominantly on South Island mainlines throughout it's working life and was a common sight on The Cabbage Train.
Dg 791 was the last Vulcan built Dg, entering service on Christmas Eve 1956.
It was renumbered as DG 2468 around 1978 due to the introduction of TMS.
Dg 791 had a somewhat uneventful working life with the NZR, and it too continued to operate until 1983 when it was purchased by the Weka Pass Railway. Dg 791 was quickly put to work once the Weka Pass Railway began operating trains in 1984. In 1988, whilst in its 'International Orange' livery, the railway had their name painted to the locomotive in place of its TMS number. In 1997, the 'DG' was repainted into the traditional red with yellow stripes on the nose of the locomotive – a livery which was refreshed in time for the English Electric Showcase of September 2018.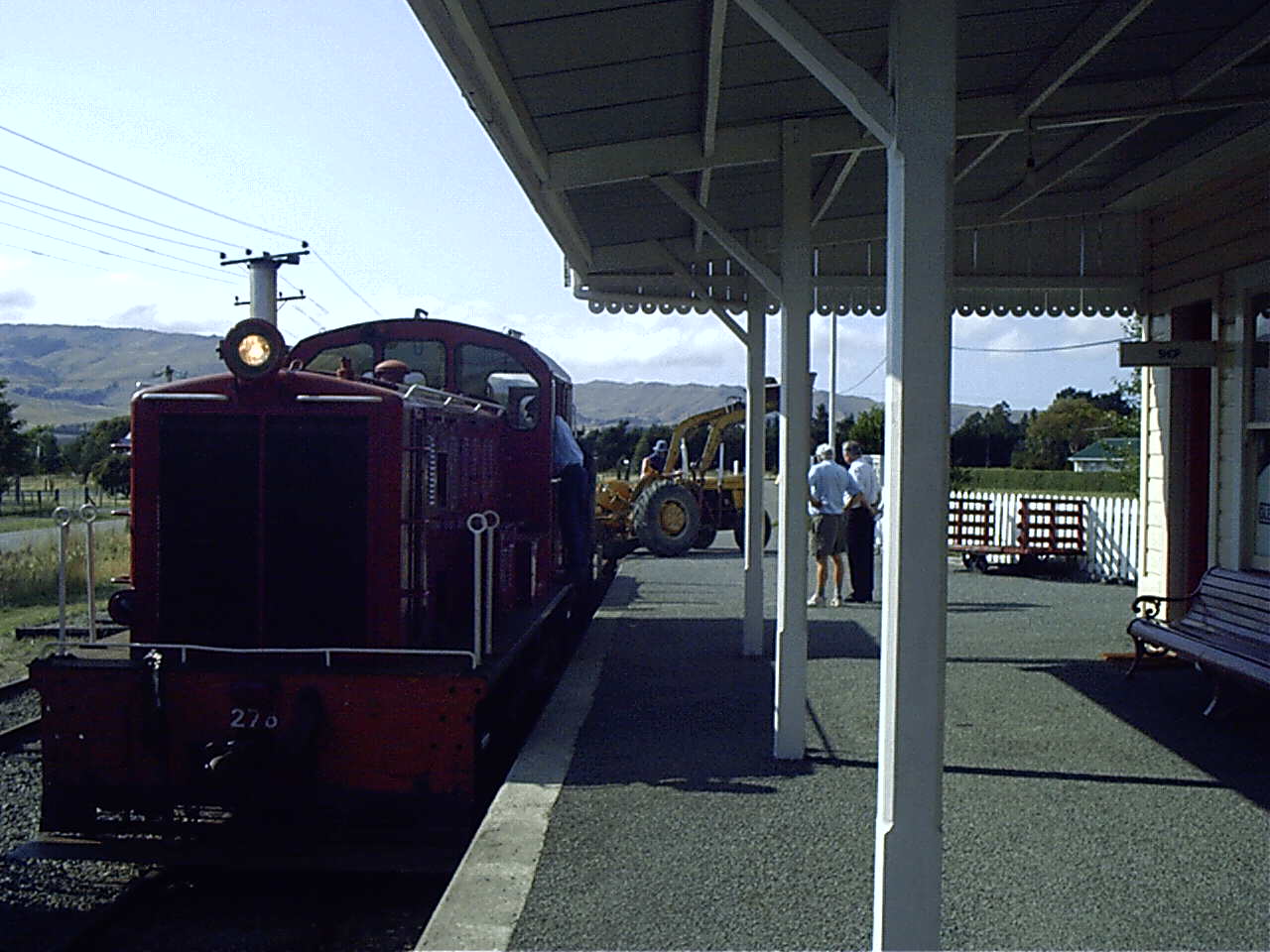 Dsa 276 – Mitsubishi Heavy Industries, Tokyo, Japan
Dsa 276, an ex-New Zealand Railways shunting locomotive, was built by Mitsubishi Heavy Industries in 1967. The class was used for heavy shunting work throughout New Zealand. The Mitsubishi Dsa's were the most modern and best equipped of the Dsa family, with 315 hp Caterpillar diesel engines and Twin Disc torque converters. 276 operated in various locations around the South Island (notably Timaru) from 1967 to 1988, so the sight of it shunting and running on a rural Canterbury preserved line is entirely justified. It was renumbered as DSA 822 around 1978 due to the introduction of TMS.
Of note, the locomotive was leased to a private firm (Rail Base Systems) in 1988 who had been contracted to lift up the abandoned Otago Central Railway after its closure. Repainted by R.B.S. in a highly visible pink livery, the locomotive quickly became known as "The Pink Panther", and this was very soon stenciled onto the side of the locomotive! Needless to say, that name was removed once ownership was granted to the WPR in 1992, and the engine was returned to the more aesthetically pleasing NZR Red colour scheme.
276 proved ideal for the Weka Pass Railway Work Train due to its moderate size, good fuel efficiency and effective torque converter system allowing for sustained high speed running. However, in 2015, the locomotive was hauled out of service and is undergoing a major engine overhaul.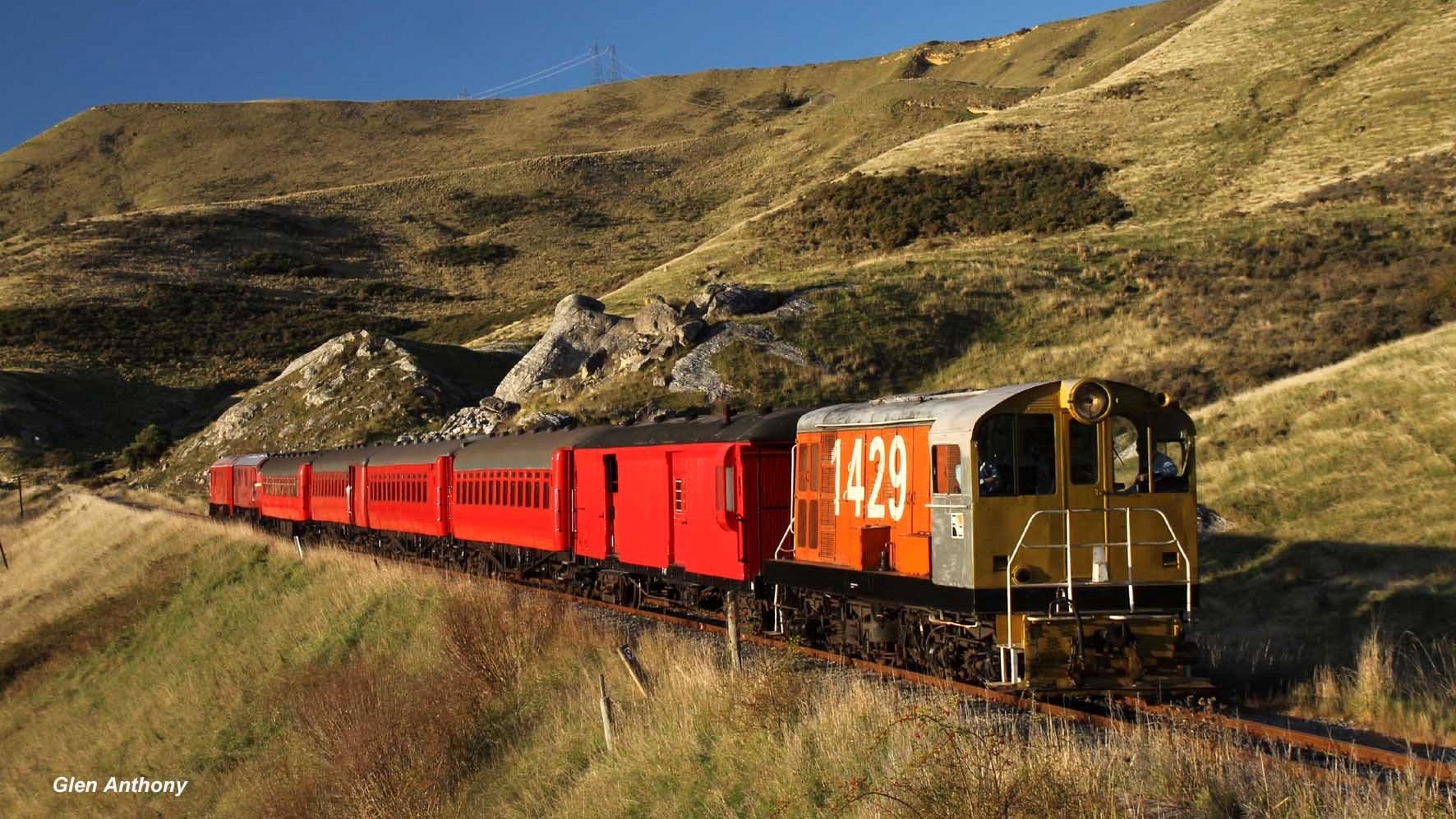 DE 1429 – The English Electric Company Limited, Preston, England
De 512 was built by The English Electric Company in 1951. One of the earliest diesels to enter service on the New Zealand Railways, the De class was intended to replace steam locomotives on shunting duties in larger yards such as Wellington/Thorndon.
Alongside shunting duties, the De's were often seen on mainline passenger trains around the North Island cities, and 4 members of the class quite famously hauled Queen Elizabeth II on her 1953/1954 Coronation Tour of New Zealand. Though not designed for mainline work, the class unofficially stole the title of the first mainline diesel-electric locomotives in NZR service – a title intended for the later Df class of 1954.
The locomotive was renumbered as DE 1429 around 1978 due to the introduction of TMS, and around the same time, joined the second generation diesels in the 'International Orange' livery – a paint job and identity it retains today.
1429 is not owned by the Weka Pass Railway, but rather by the Diesel Traction Group of Ferrymead. This small but talented team are custodians of a number of English Electric Locomotives around the South Island.


The Weka Pass Railway has hosted a number of visiting locomotives since the first trains were operated in 1984.
As with all heritage railways worldwide, the Weka Pass Railway endured humble beginnings. In May 1983, publicity in Christchurch's 'The Press' newspaper pointed excited members of the public to the small village of Waipara for the very first time. The "Mayfair Festival" was held, featuring the Canterbury Railway Societys Manning Wardle #1841 of 1914 and Fowler #16246 of 1924 from the Canterbury Steam Preservation Society. The society had not acquired any passenger carriages at this point; with rakes of highsider wagons filling in, full of passengers. Shuttles ran from the old Waipara yard up the Glenmark straight.
Not too long after society operations commenced, the Weka Pass Railway had the fortune of participating in a major motion picture work – starring many contemporary members as extras! For the filming of 'Hanlon: In Defence of Minnie Dean', The Plains Railway's K 88 'Washington' of 1877 visited the railway in 1984. It didn't only operate for film crews – the public 'Washington Weekend' event was a lucrative endeavor for the young society.
Whilst A 428 was under overhaul, Weka Pass Railway members were treated to a number of visiting steam locomotive cameos. In October 1988, the Glenbrook Vintage Railway's Ja 1250 of 1949, on its return to Pukeoware after the great Rail 125 celebrations in Christchurch, called into Waipara for a few runs up the Weka Pass. For a FRONZ Conference over Easter 1989, the Canterbury Railway Society's C 864 of 1931 visited the Weka Pass Railway. On Saturday the 4th of November 1989, 1211 was in steam on the Weka Pass Railway, running in combination with the DJ hauled 'Pegasus Bay Explorer' excursion train. During a three-hour stopover at Waipara, excursionists were able to experience a short ride behind J 1211, before returning to Christchurch on one of the last DJ hauled passenger trains north of Christchurch in history.
W 192, then owned and operated by the New Zealand Railways and later by Tranz Rail, visited the railway on several occasions, as did several members of the government railway's DC/DCP Class.
Highlights of the 1990's and early 2000's for many New Zealand railway and vintage machinery enthusiasts included the great Waipara Vintage Festivals, which began in 1995 and were held biennially for around two decades. Over the course of the 1995, 1997, 1999 and 2001 festivals, the following locomotives ran on Weka Pass metals: Ocean Beach Railway's A 67 of 1873, Canterbury Railway Society's F 13 'Peveril' of 1872, Pleasant Point Railway's D16 of 1878, Feilding and District Steam Rail Society's F 163 of 1880, Tranz Rail's (now Rail Heritage Trust) W 192 of 1889, Canterbury Railway Society's Wd 357 of 1901, Ocean Beach Railway's Kerr Stuart #4185 of 1929, The Ferrymead Trust's Kb 968 of 1939, Mainline Steam Trust's J 1211 of 1939, Mainline Steam Trust's Ka 942 of 1940, Diesel Traction Group's DE 1429 of 1951 and Diesel Traction Group's Dg772 of 1955, along with the Weka Pass Railway's A 428, Dg 770, Dg 791 and Dsa 276.
In the 21st century, locomotive visits have continued. Most visits have been by larger, mainline certified locomotives, due to the rising costs of road transport. The vast majority of these visits, with only one major exception, have been part of mainline excursions or rail tours.
Steam Incorporated enjoyed their first railtour layover at Weka Pass in September 2008, with their 1956 built Ja 1271 and Pullman Green carriages. During the visit, the locmotive was involved in a Railfans Day with A 428 and the railway's three resident diesels. Some spectacular double-headed steam-hauled runs in terrible weather were witnessed up the Pass, with both a long goods and a long passenger train featuring. Steam Incorporated would next visit in 2015, this time with the (then) newly restored Ab 608, following the South Island Centenary Rail Tour. Fortunately, patrons were treated to much better weather for an exquisite early November evening run.
Mainline Steam Trust's Ab 663 of 1917 visited the railway in April 2010 with an excursion train from Christchurch. A few years later, Diesel Traction Group's Dg 772 and Dunedin Railway's Dj 1209 of 1967, visited the site as part of the Rail 150 Celebrations, centered around Christchurch in October 2013.
Finally, Diesel Traction Group's 1966 Di 1102 and Dg 772 visited the railway for much of 2018 for 1102's running in and crew training, prior to being granted mainline certification. Waipara became the largest English Electric depot in the Southern Hemisphere during these months. Along with DTG's DE 1429 on long-term loan, and WPR's Dg 770 and Dg 791, a special event was hosted to celebrate the largest live gathering of English Electric Traction in New Zealand History. The preceding outline should not be treated as an exhaustive list of all locomotives that have visited our site.
A428's 110 years of service between the NZR and WPR was nicely commemorated with a suitable headboard used during the 3rd of November 2019 trains. Photo Lauchlan Brady
Our locomotive fleet is maintained and cared for by our small team of active volunteers. The locomotives inspected annually, and worked on throughout the year to keep them both safe and historically accurate. A 428 in particular is subject to rigorous boiler and mechanical inspections on both a daily and annual basis.
An addition, A 428 is subject to a major overhaul in the near future. This will likely see the engine stripped back to the frame, and the boiler welded and retubed.
The loco department prides itself as caretakers of these pieces of living history. Weka Pass locomotives are never clean – locomotives rarely were back in the day. Our engines are workhorses that still work hard on a challenging line.
Operating our locomotives is expensive, both in monetary terms, and that of human resource. We really appreciate all the support we can get, and suggest that enthusiasts spread our word, or 'get their hands dirty' to support the cause.
Click here to become a member, or click here to show your support with a donation.