Notice: Reduced Wheelchair Access

Our train usually has one carriage which has wheelchair width doorways, but unfortunately it needs to be removed from the train for repairs. Whilst this carriage is unavailable, we regret to inform that we will be unable to convey any passengers who are confined to a wheelchair. More mobile passengers will still be able to ride with care. At this stage are not sure how long the carriage will be unavailable for. We apologise for any inconveniences that this may cause. Monday 11th December 8:30pm

Notice: No Steam Trains

It has been announced by Fire and Emergency New Zealand due to the extreme fire risk Fire restrictions will be in force for Sunday 10th December. This train will now be hauled by our Vintage Diesel Locomotives. Wednesday 6th December 1:00pm

The Weka Pass Railway wishes to thank everybody who has ridden on our Christmas Trains this December. We've been overwhelmed with the community following and support this year, and it's been great to see so many happy faces. Admittedly, the running of these trains has been a learning curve for us due to the higher-than-expected numbers, but next time we'll be even more prepared. We'll be back in 2018, so watch this space! Have a Merry Christmas and a Happy New Year!
The Weka Pass Railway is a historic rural railway using both vintage steam and diesel-electric locomotives on 12.8 km of scenic line through the unique limestone beauty of the Weka Pass out of Waipara where superior weather patterns provide crystal clear air and high sunshine hours. The Weka Pass Railway is a totally voluntary organization, whose members are dedicated to the preservation of New Zealand's rail heritage.
Initially, the railway runs across flat farmland and passes a large irrigation reservoir and vineyards, before climbing grades as steep as 1:50 ( 2% ) as it winds through the cuttings in the Pass. One can only marvel at the achievements of the workers who in the 1880's moved tons of clay and limestone by hand to form all the cuttings and large embankments. The Weka Pass section was completed in just over two years. The land was once under the sea and some of the surrounding limestone rocks have weathered into unusual shapes. Most notable are Frog Rock and Seal Rock, in the middle of the Weka Pass. Se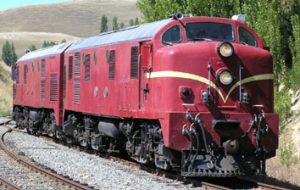 ashells and fossils may be seen in the walls of many cuttings. The line opened to Waikari in 1882 and extended to  Waiau by 1919. It was planned to extend the line to the West Coast, Nelson and Picton. However, plans changed in the early part of this century and the main line now follows the coast to Picton. Regular passenger services were withdrawn in 1939 and the Waiau Branch closed on January 18th, 1978. The line to Waikari was purchased by the Weka Pass Railway Inc. after the end of a union embargo in 1983.