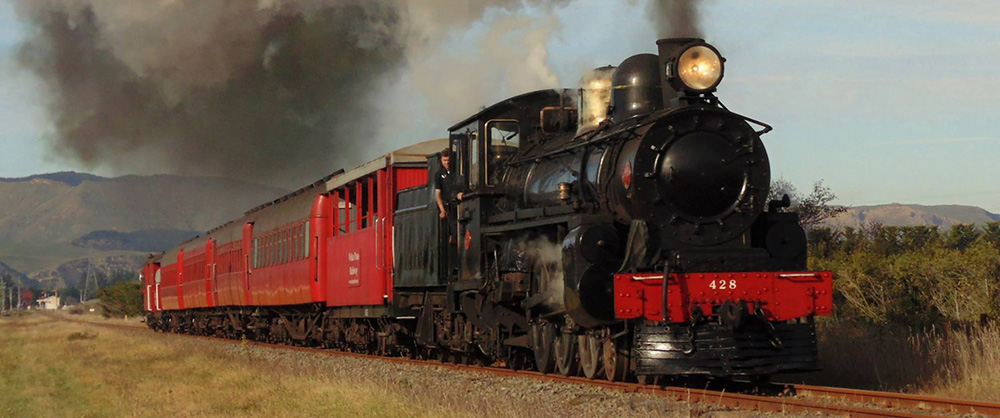 Steam Returns to the Weka Pass



Labour Weekend 2018
Bookings recommended

After almost a year out of traffic,  hours of work/maintenance, and the help of hundreds of volunteers and members of staff, A428 is set to return to the head of our public trains this Labour Weekend!
Successful test runs have taken place and she is running (and sounding) brilliant! We're pleased to have her returning to our fleet – ably taking her place for the long weekends running!
Over the last few months, the locomotive has had a full new set of superheater elements fabricated and replaced, a stay replacement, a brand new spark arrestor and petticoat replacement, boiler pressure gauge calibration, safety valve inspection and testing, and boiler welding work in the form of new fusible plug bushes (among countless other small but fiddly repairs).
Hundreds of man-hours have gone into the work, and we are always extremely thankful of our team of volunteers who give up their weekends (and sometimes their weekdays too) to get the job done. Some jobs must be carried out by external professionals, and these have all gone smoothly. All of these jobs are filthy ones, so it's always great to see white smiles among the soot and ashes.
Experience a steam hauled ride to Waikari before fire restrictions come into place over the summer. Bookings are open, don't miss out!
---

As this is a special event, no concessions, discounts, membership cards, no free preschoolers, vouchers or Goldcards will be accepted.
Pre-booking is strongly recommended. Seats are limited on these two services.
You will be sent an eTicket when your booking is paid. Although it is not vital, please bring along your eTicket to speed up the check in process at Glenmark Station on the day.
Your booking is not confirmed until paid and if remains unpaid may be cancelled.

Terms and Conditions:
* Booking not confirmed until paid in full
* Unpaid bookings will be cancelled
* You will be sent an eTicket when paid to redeem for a ticket at the Glenmark Station Ticket office on the day
* Cancelled bookings after Thursday 18 October will only be 80% refunded
* In unforeseen circumstances WPR reserves the right to cancel the train or change details.
* If cancelled by the WPR your tickets will be fully refunded
* By booking you agree to these Terms and Conditions